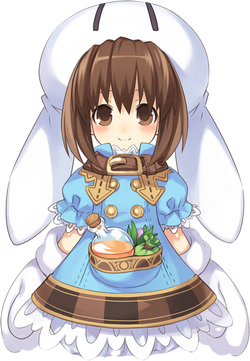 Gust (がすと, Gasuto) is a traveling alchemist and cutthroat entrepreneur. She represents the company Gust Incorporated. Her design is based on the Gust Online Shop mascot Gust-chan[1] and her occupation is based on the Atelier series.
Other Appearances
Anime & Manga
Hyperdimension Neptunia: Megami Tsuushin
Non-Neptunia Appearances
Nights of Azure: Gust is available in the game as a pre-order only downloadable content.[2] The Steam version of the game has her included in the base game.[3]
Nelke & the Legendary Alchemists: Atelier of a New Land: Gust appears as a resident of Westwald in first-print copies of the game.[4]
Trivia
In the Hyperdimension Neptunia mk2 popularity poll, Gust has come in 12th place, making her one of the least favorite characters from the first Hyperdimension Neptunia. 
Gust says that she is from a country called Salburg. This references Salburg, a setting in Atelier Marie: The Alchemist of Salburg.
References
Community content is available under
CC-BY-SA
unless otherwise noted.