Leanbox is the nation protected by the CPU Green Heart in the Ultra Dimension.
Geography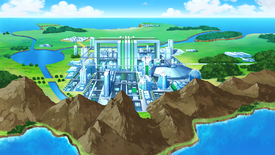 The Leanbox in the Ultra Dimension is almost exactly the same as its Hyper Dimension counterpart with no relevant changes, right down to the building structure. There are no relevant differences of terrain. physical appearance of the central city, or positioning on the world map.
Dungeons
Victory
Re;Birth3
Lost Places
Denizens
Story
Hyperdimension Neptunia Victory
Hyperidmension Neptunia Re;Birth3
Musical Themes
Audio samples do not work on iPad or any medium that does not support the .ogg audio format.
Gallery