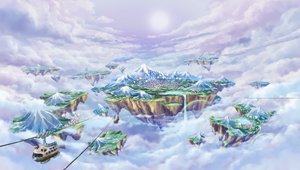 Lowee, also known as the Land of White Serenity, is protected by the Console Patron Unit (CPU) White Heart. This land is the coldest as it is always snowing. Magic is widely used here to make life more convenient.
Geography
Much like the other nations, Lowee is a floating landmass in the sky surrounded by smaller islands connected by cable cords. The climate in Lowee is a perpetual winter where it is always snowing. The theme of Lowee is that of Fantasy and everything looks like a magical kingdom. Clouds block out most of the sky and the sun hardly shines through. While the land has green grass, it also has snow-topped mountains throughout.
Dungeons
HDN
Re;Birth1
Story
Hyperdimension Neptunia
Hyperdimension Neptunia Re;Birth1
Musical Themes
Audio samples do not work on iPad or any medium that does not support the .ogg audio format.
Gallery
Community content is available under
CC-BY-SA
unless otherwise noted.