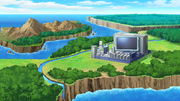 The PC Continent (ぴーしー大陸, Pī Shī Tairiku) is a nation in the Hyperdimension Neptunia series. It represents a fictionalized version of PC gaming and as such, there is no CPU ruling over the nation.
Due to the Hyperdimension Neptunia series being one that revolves around the concept of different dimensions and universes, there are multiple PC Continents throughout the series, all retaining the same aforementioned purpose and nature.
Trivia
The giant building in the Ultra Dimension PC Continent resembles the Sharp X68000.
The lost places "Apple Artistry" and "95 Shards of Glass" reference Apple, Inc. and Windows 95 respectively.