About Hyperdimension Neptunia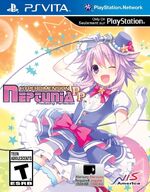 Hyperdimension Neptunia: Producing Perfection (神次元アイドル ネプテューヌPP, lit. "Kami Jigen Idol Neptune PP" also called Ultradimension Neptuune PP) is a spin-off game on the PlayStation Vita. The player takes on the role of the main character, who falls into Gamindustri and is immediately hired by one of the four CPUs—Neptune, Noire, Blanc, and Vert—to be their producer and manage their idol careers.
Content
Community content is available under
CC-BY-SA
unless otherwise noted.