"
Uzume, I am relieved to hear your voice. We're roughly 70% complete with evacuation.
"

— Umio
Umio is Uzume's partner, a fish with a human face who keeps a straight face all the time. Contrary to his ridiculous appearance, he has a very sensible personality, and Neptune describes him as an "elegant gentleman." He swims through the air instead of the water, but whether he uses lungs or gills to breathe is shrouded in mystery.
As of August 7, 2015, he became a playable DLC character in Megadimension Neptunia VII.
Profile
Appearance
Personality
Relationships
Main Article: Umio/Relationships
Story
Megadimension Neptunia VII
Gameplay
Main Article: Umio/Gameplay
Equipment
Weapons
Costumes
Accessories
Skills
Combo
SP
EXE Drive
Other Appearances
Games
While he does not make a physical appearance, Umio is briefly mentioned by Uzume.
While Umio does not appear in this game, a special event features IF and Neptune watching Uzume, the other Neptune, Nepgear and Plutia playing with a beach ball that is designed after him.
Etymology
The kanji for Umio's name literally means "sea" and "man", and roughly translates as Seaman, a virtual pet video game for the Sega Dreamcast, hence his personification.
Quotes
Main Article: Umio/Quotes
Trivia
Umio is the first male character to be playable in the entire Hyperdimension Neptunia series.
He is also the first playable character who is neither a CPU nor a human/humanoid-based character.
Nearly all of his skills are based on attacks from the Pokémon franchise. Ironically, the Pokémon franchise is not owned by Sega.
Umio can be seen as a Zero Dimension counterpart to the Oracles of the Hyper Dimension, as Uzume lacks her own (although Histoire once held this role in the Hyper Dimension).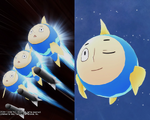 The Umio models used in Uzume's Umio Heaven skill are different from the model Umio uses as a party character, sporting fewer polygons and no real animations.